Organs of War: Measurement and Ecologies of Dematerialization in Wangechi Mutu's Histology of the Different Classes of Uterine Tumors.
Conferencista: Zakiyyah Iman Jackson
17 de noviembre, 17:00 hrs
Fotografía de © Nandipha Mntambo, Europa (2008).
Zakiyyah Iman Jackson explores the critical engagement by Kenyan-American artist Wangechi Mutu with the racialization of biological reproductive systems and its somatic effects. Histology re-figures and re-frames carcinogenesis as a feedback loop encompassing biological, psychological, environmental, and cultural agencies and, therefore, neither a matter of individualized disease nor inferior biology but rather a somaticization of politics, and, by politics, she means war.
Departing from an exclusive focus on structure, whether it be that of the double-helix or scaled up to the symbolic order, Jackson argues that black female sex(uality) and reproduction are better understood via a framework of emergence and within the context of iterative, intra-active multiscalar systems—biological, psychological, environmental, and cultural. Mutu's Histology of the Different Classes of Uterine Tumors crucially reveals the stakes of this intra-activity as it pertains to the semio-material history of "the black female body," reproductive function, and sex(uality) as linchpin and opposable limit of "the human" in scientific taxonomies and medical science, particularly that of Linnaeus's Systema Naturae and Ernst Haeckel's highly aesthetic approach to evolutionary theory. Mutu's art is notable for its constructive reorientation of the theorization of race via a reflexive methodological practice of collage, one that reframes the spectatorial encounter from that of a determinate Kantian linear teleological drama of subjects and objects to that of intra-active processes and indeterminate feedback loops. Thus, this is not a study of a reified object but of an intra-actional field that includes material objects but is not limited to them.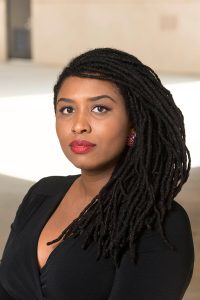 Zakiyyah Iman Jackson is Associate Professor of English and Director of the Center for Feminist Research at the University of Southern California. Professor Jackson is the author of Becoming Human: Matter and Meaning in an Antiblack World: winner of the Harry Levin First Book Prize from the American Comparative Literature Association, the Gloria Anzaldúa Book Award from the National Women's Studies Association, the Lambda Literary Award for LGBTQ Studies and is featured in Art Forum magazine's "Best of 2021" issue. Her research explores the literary and figurative aspects of Western philosophical and scientific discourse and investigates the engagement of African diasporic literature, film, and visual art with the historical concerns, knowledge claims, and rhetoric of Western science and philosophy. Professor Jackson is at work on a second book, tentatively titled "Obscure Light: Blackness and the Derangement of Sex/Gender." The project provides a critique of biocentrism (or biological reductionism and determinism) and elucidates the indistinction of sex/gender and race. It argues that antiblackness constitutes the bedrock of modern Western logics of sex/gender, in science and philosophy, and meditates on the transfiguring potentialities of blackness. Jackson's work has appeared in scholarly journals such as Feminist Studies, e-flux, Gay and Lesbian Quarterly, Qui Parle: Critical Humanities and Social Sciences, South Atlantic Quarterly, and Catalyst: Feminism, Theory, and Technoscience in addition to exhibition catalogues for the Whitney Museum, Hammer Museum, and The Studio Museum of Harlem. She has work forthcoming in Diacritics.